Bad weather closes 95 schools across Northern Ireland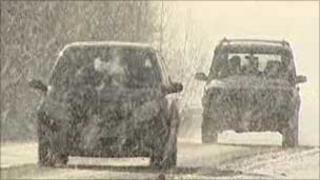 Almost 100 schools have been closed in Northern Ireland because of the wintry weather.
Northern Ireland experienced record-breaking low temperatures over the weekend and the cold weather is forecast to continue for most of the week.
The lowest overnight temperatures were in Castlederg, County Tyrone, -8.5C, and -7.1C in Enniskillen.
At least 95 schools remained closed, many in Counties Down and Armagh.
The president of the National Association of Teachers in Northern Ireland, Michael Newman, said principals "closed schools because of safety concerns".
Safely
"We've got many rural schools and it can be extremely difficult to get access to them when weather like this occurs because, obviously, the minor roads are not gritted," he said.
"The principal will have to look at things like that and the ability of the children to get to school safely.
"They would also probably have to consider the difficulty of staff getting to school, also in this severe weather, there are little things like heating systems not working."
Meanwhile, gritting lorries treating dangerously icy roads were attacked by youths in Londonderry.
The window of one vehicle was smashed on Sunday and the Roads Service was not able to grit a number of roads in the Creggan and Gobnascale areas.
The Roads Service said gritters would be on duty as normal on Monday evening after agreement was reached with community workers.
Last year community workers escorted gritters in and out of Creggan.
Sinn Fein councillor Kevin Campbell said people in Creggan had been on standby to escort the gritters in and out of the area.
"People on the ground were very annoyed at the fact that pensioners and other people were in effect locked down because Roads Service weren't in and gritting the area."
SDLP MLA Pat Ramsey said young people should know better than to attack gritters.
"Young people should know what's right from wrong in these situations, and this is getting out of hand."
Colin Brown from Roads Service said they had no alternative but to withdraw the service.
"These particular attacks are antisocial and nobody wants them.
"We have drivers out there doing a job, and they're confronted with this sort of situation which is very difficult and which has to be resolved quickly.
"We do the best we possibly can and in this circumstance we removed the evening service on the basis that we can possibly move into the area in the morning."
Elsewhere, the service said all roads had now been treated and were "passable with care".
It warned of extremely hazardous driving conditions and advised drivers to exercise caution.