Higgins apology letter sells for £2,400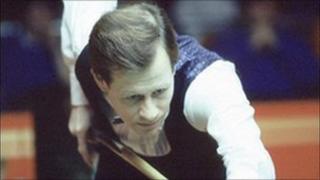 A letter of apology written by Alex 'Hurricane' Higgins after he punched a press officer has been sold at auction for £2,400.
Snooker star Higgins, who was from south Belfast, died on 24 July at the age of 61.
The former world champion wrote the letter minutes before he appeared before a disciplinary panel.
It followed a bust-up with Colin Randle who was working for the sport's governing body at the time.
Written in upper and lower case, the letter contains remarks from Higgins including, "I was very upset at the time in respect of personal and financial matters".
Mr Randle, of Findern in south Derbyshire, was officiating at the Crucible World Championship in Sheffield on April 14, 1990.
Higgins had just crashed out of the world tournament to Steve James, and as he was entering the media area for a post-match press conference, he turned around and "walloped" Mr Randle in the stomach.
The press officer said he responded by pinning Higgins up against the wall before the pair were eventually pulled apart.
The tussle resulted in Higgins being suspended for a year and docked so many points that his ranking fell to 120.
The letter was written three months after the incident and had been in a drawer for years.
Mr Randle has said the incident did not make him think badly of Higgins, who died after a long battle with throat cancer, and he remembered him simply as "a truly brilliant snooker player".
He said he would donate some of the proceeds to Cancer Research.
The letter had been expected to fetch between £1,500 and £2,000.
A spokeswoman for Hansons auctioneers in Derby, who sold the letter said: "We had several telephone bids and there was an awful lot of interest."