George's market honoured at food awards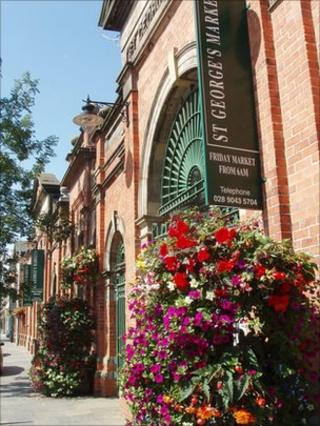 For many Belfast residents a trip to St George's Market marks the start of the weekend.
So its thousands of adoring fans will be delighted to hear the attraction has been honoured at BBC Radio 4's Food and Farming Awards.
The popular indoor market was up against 800 nominations in the Best Food Market category and was named runner-up.
It is a huge boost for St George's and its loyal traders who set up shop every weekend at the East Bridge Street venue.
Judge Sheila Dillon said she was looking for a market which was rooted in its community and had delicious good value food for sale. She said St George's certainly fitted the bill.
Although it narrowly lost out on the top spot to Shroud Farmers Market, local trader Paddy Lynn said he couldn't be happier.
He added: "I am very pleased. Coming second is a fitting tribute to all the traders here. We got the the news on Wednesday and we are all over the moon.
"It was the quality and quantity of the food that impressed the judges. There are so many cooks here making great food and providing it to the people of Belfast.
"Any award like this can only help Belfast. We are here 52 weeks a year in rain, hail or snow."
'Success'
Mr Lynn is a fourth generation trader and sees St George's as his second home. Every Friday he sets up his antiques stall and tucks in to some of the delicious food on offer.
"I love a chicken crepe first thing in the morning. There are great curries and traditional Belfast breads."
St George's market was built between 1890 and 1896 making it one of the city's oldest attractions.
In 1997 it underwent a £4.5m refurbishment and now about 8,000 customers pass through its doors every weekend.
Conor Maskey, chairman of Belfast City Council's development committee said the runner-up prize is a great achievement for the market.
He added: "This is a great accolade for the market and a fitting tribute to all the hard work put in by the traders and the council to make it such a success."
Along with the hundreds of dishes on offer, St George's was also applauded for its welcoming atmosphere.
Mr Lynn said the hustle and bustle of the market, its old Victorian features and its delicious food stalls could prove to be a winning formula next year.
"I am very optimistic for the future. I hope we win next year. We came fourth last year and this year we are second so we are slowly moving up.
"The market is now a major part of Belfast. It would be great news not only for the traders but for Belfast."