Derek Dougan to enter Wolves hall of fame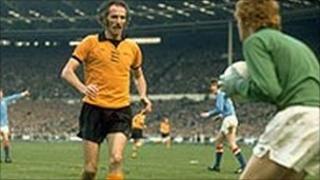 Former Northern Ireland international Derek Dougan is to be honoured for his services to Wolverhampton Wanderers by being inducted in their hall of fame.
'The Doog' scored more than 120 goals for the Midlands club as a player during a spell which saw them reach the UEFA Cup Final and win the League Cup.
He later returned to the club as chief executive in the 1980s to help save Wolves from financial collapse.
Now they will honour the east Belfast man, who died in 2007 aged 69, in a ceremony at their Molineux stadium on 7 January.
Head of marketing and communications at Wolverhampton Wanderers, Matt Grayson, explained how Dougan was selected for the accolade.
"This is the third year of the hall of fame, we ask the fans to send in their nominations and they are considered by a semi-independent committee which contains the likes of journalists, fans' representatives, members of the former players' association etc," he said.
"Derek Dougan was considered a substantial enough player to be in the hall of fame, it is just sad he could not be here to see it.
"We have a dinner to celebrate the inductees and that will take place on 7 January, Derek will be inducted along with Wolves President Sir Jack Hayward and former player Kenny Hibbitt.
"Derek Dougan was such a colourful character on the pitch as a player.
"Thsese days the modern sportsman is accused of not breaking a smile, but Derek combined a sense of fun with skill and was a hugely successful player for us."
Wolves chief executive Jez Moxey described Dougan as an "iconic Wolves figure, always entertaining both on and off the pitch and a major crowd favourite in his own right".
Dougan made 320 first team appearances for Wolves in just over eight seasons at Molineux after joining from Leicester City.
He helped them regain top flight status in 1967 and played when they beat Manchester City in the 1974 League Cup final. His 12 goals in European competition are a club record.
Wolves are planning to redevelop Molineux at the end of this season and Mr Grayson said when this was completed the hall of fame would have a permanent home.
"When that happens a lot of Derek Dougan fans will be able to come over, look around the hall of fame and read about his achievements," he added.