Transport expert criticises A5 plan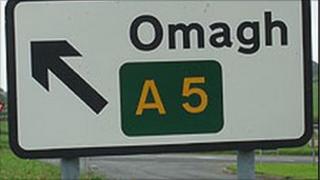 A transport expert has criticised plans to build a new £800m dual carriageway between Londonderry and Aughnacloy.
Construction on the A5 is due to begin in 2012, subject to finance and the outcome of a public inquiry in 2011.
The controversial road has been opposed by environmentalists and farmers, but welcomed by the business community.
Speaking at a meeting in Ballygawley organised by the Alternative A5 Alliance, Christian Wolmar said the road was unnecessary.
"The scheme does not stand up in terms of the environment or in terms of transport needs, because there isn't that much congestion on the roads at the moment.
"In terms of the money situation of both governments, at the moment I just don't see the sense of building a road through fantastic agricultural land at a time when the money could be well spent on all sorts of other projects."
In a statement, Roads Service said the A5 western transport corridor would "significantly improve the road network, reducing journey times and improving road safety".
"The preferred route was chosen using well established methodologies and the A5 project is designed to provide 85km of new dual carriageway between Derry and the border at Aughnacloy, that will support the future economic growth of this region," a spokesperson said.
"It has been argued that on-line widening or upgrading to dual carriageway of the existing A5 would be a better option.
"This is not the case given the number of direct accesses to the existing road, the number of properties required and the fact that the existing alignment does not meet the standard for a modern day dual carriageway.
"In taking this project forward, Roads Service will continue to consult with all the landowners affected by the preferred route.
"There will also be a formal consultation process in advance of the public inquiry, during which all affected parties and others may make comments and lodge objections to the draft orders and environmental statement.
"These comments and objections will then be heard at the public inquiry in 2011."