Woman and son in hospital after Portstewart fire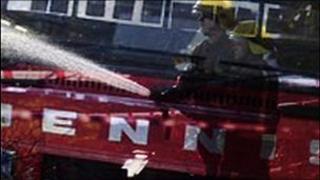 A mother and her teenage son have been taken to hospital following a house fire in Portstewart.
The kitchen of the house was badly damaged in the blaze on Wednesday night. The pair were treated for the effects of breathing in smoke.
Coleraine fire commander Andy Deal said they had a lucky escape. He said the fire started on a sofa in the kitchen.
"The sofa gives off a very thick black acrid smoke which can be very dangerous," Mr Deal said.
"The activation of a smoke alarm meant that there was an early warning and they could get out safely."