Limavady men's 'brief encounter' with broadcaster Snow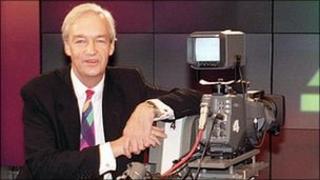 You never know who you might get talking to on the train.
That was certainly true for two Limavady businessmen at the weekend, when they bumped into broadcaster Jon Snow on the 21.15 from Paddington.
The presenter was so impressed, he blogged about his encounter on Channel 4's website.
Describing Martin and Jonathan Tierney as "fabulous guys", he praised the entrepreneurial skills which led them to set up a business manufacturing chairs that adjust to take the weight off pressure sores.
Their company Seating Matters now employs 15 people in Limavady.
"True entrepreneurs with a sensational niche product," wrote Jon Snow.
"Altruistic, hard working, bright, imaginative and running a 'small business' that they had only set up in 2006.
"Niche markets don't grow on trees but they found one when they were only 17 and 18 respectively."
The broadcaster even dubbed them "Irish hope" amid the Republic's economic "mayhem".
"Maybe the South should think small again - there's some serious talent about, even if it has to be lured down from the North."
Martin Tierney said he and his brother "immediately recognised" Snow when he sat down opposite them on the train in Reading on Saturday.
"We got talking about Haiti, because we knew he had been out there and so had we, and we ended up having the friendliest chat.
"He's a very intelligent man, very sharp and bright, and he came across as just a really nice, decent man.
"He grilled us like he was questioning some Irish politicians, but in the friendliest way.
"It was so nice to find out what he thought of us.
"He's a very high-profile journalist and is known and respected all over the world, and to hear him say that about us... it wasn't what you expect to happen on a train.
"I suppose he sees the value in what we're doing in terms of saving the NHS money by making our chairs.
"He even said he'd like to keep in touch and hear how things develop, and we've been in email contact already."