Tayto amusement park opens in County Meath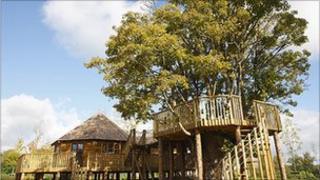 You've heard of Disneyland, Legoland and Alton towers but now a new theme park has opened which the owners say is perfect for beating the credit crunch.
Tayto Park, a theme park from the people who bring you the crisps, is opening in Ashbourne, County Meath on Wednesday.
Businessman Ray Coyle, owner of Largo foods, the company behind Tayto in the Republic has turned 55 acres of farmland into an American-themed park, which will include an Indian village, adventure playgrounds and exotic animals from buffalo to cougars and mountain lions.
Tayto Park is one of the first themed parks of its kind in Ireland with over 100 attractions
The development, which took three years to complete at a cost of 8.5m euros (£7.2m) includes parking for 800 cars and 30 buses and is designed to cater for about 4,500 visitors a day.
Some of the key attractions will include The Lodge featuring a range of shops and a restaurant, as well as Teahouse in the Tree House set in an old sycamore tree.
The Potatohontus Native American Village comprises six different tipi tents, each one hand painted in the national colours of its tribe.
Pet-Tayto Corner features rabbits, ducks, geese, pheasants, 10 different types of rare birds and lots of especially colourful and unusual hens.
The Pow Wow Playground is specially built for children aged between four and 14 years and contains four towers each with different connectors, slides, climbing walls and bridges.
Buffalo Ridge is home to 250 farmed herd of buffalo and can be enjoyed from a viewing platform.
In keeping with the festive season Santa Claus will be in Tayto Park from 27 November to 24 December when the entire park will be twinkling with thousands of special LED lights.
Tickets to the park cost 14 euro (£11.80) for adults and 12 euro (£10.12) for children