Attwood's cuts pledge 'may cost Northern Ireland £3bn'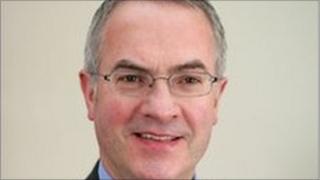 Alex Attwood's pledge to resist a 10% cut in housing benefit may leave the executive "picking up the tab" for NI's entire social security bill, according to DUP MLA Simon Hamilton.
Mr Hamilton was criticising a statement made in Stormont on Tuesday by the social development minister.
Mr Attwood intends to oppose the 10% cuts in housing benefit for people on job seekers allowance for over a year.
The cuts were announced by the coalition government in October.
They are part of a planned £18bn reduction in welfare payments detailed in the chancellor's comprehensive spending review.
Mr Attwood said the plan would leave more than 22,000 people in Northern Ireland on reduced housing benefit.
Northern Ireland receives more than £3bn annually from the treasury to fund its welfare system.
This subsidy is calculated on the basis that social security benefits in Northern Ireland remain consistent with the rest of the United Kingdom.
However, Mr Hamilton, chair of the Assembly's social development committee, warned that upsetting this arrangement, as Mr Attwood proposes, could result in Northern Ireland having to make up the difference out of its own budget or even losing the annual subsidy completely.
'Reckless behaviour'
"I support seeking flexibility on how changes to the welfare system affect people in Northern Ireland, but I urge caution when it comes to playing fast and loose with that £3bn," he said.
"This would be reckless behavior that Northern Ireland simply couldn't afford.
"When we are already dealing with reductions of £4bn in our block grant, is anyone seriously suggesting that we should be inviting a further £3bn each and every year in cutbacks?"
UUP social development spokesperson John McCallister also criticised Mr Attwood's stance.
"It is disturbing that Minister Attwood appeared to threaten to use Stormont to 'legislate against' Westminster's welfare reform proposals. This is an incredibly dangerous and foolhardy threat," he said.
"Is Alex Attwood really saying that frontline services funded by the Northern Ireland budget should suffer so as to fund his plans to oppose welfare reform?"
Mr Attwood said proposals by the coalition government would lead to £500m in welfare cuts in Northern Ireland.
He added that there may be opportunities to protect those in need without compromising parity with UK welfare.
Mr Attwood said that, although social security was a devolved matter, his department was limited by funding issues.
The minister said he was involved in discussions with the government's welfare ministers and had highlighted the difficulties facing Northern Ireland.
Mr Attwood added that he believed the planned changes should be implemented in a way that recognised the areas of high unemployment and the special circumstances of Northern Ireland.
"I will argue for the maximum flexibility to be allowed to us in implementing any changes."