Belfast 'banker's union' meets amid Irish turmoil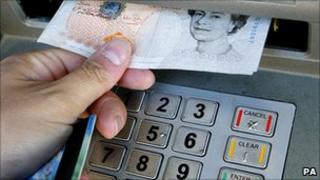 The Belfast branch of the Irish Bank Officials Association met on Tuesday to discuss recent events in the financial services sector.
The talks come as the implications of the Republic of Ireland's decision to accept an economic bailout from the EU and IMF start to become apparent.
The fate of financial institutions in the Republic is highly significant to the NI banking sector. Two of the four largest high street banks are Irish-owned.
Irish banks in Northern Ireland also issue sterling.
On Monday the union requested a meeting with the Irish government and the IMF/EU team to discuss the plans for restructuring the Irish banking sector.
IBOA general secretary Larry Broderick said that although union members understood that some consolidation was unavoidable within the banking sector, they are becoming increasingly alarmed about the possible scale of this restructuring.
Golden parachutes
"It is important, therefore, that clarity is provided as soon as possible on the extent and nature of this reconfiguration of the banking sector for the sake of staff and indeed for the sake of customers," he said.
A key concern for IBOA is protecting as many industry jobs as possible. Mr Broderick said the union would urge the authorities to resist the temptation to cut costs by implementing further staff cuts.
"With over 6,000 jobs lost within the sector since the crisis began in 2008 ... ordinary bank officials are continuing to pay a significant price for the widescale mismanagement of this industry - while those who actually made those decisions have generally enjoyed a soft landing courtesy of golden parachutes," he added.
"Any short-term gains from such an approach are likely to be more than offset by the loss of experience and skill at a crucial time for the sector and by the negative impact on the economy of lost tax revenue, increased welfare costs and reduced consumer spending."