Belfast jeweller 'feared for life' in axe raid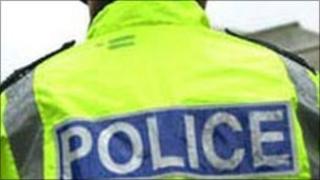 A jeweller, whose shop was raided by two armed men, said he feared for his life when one of the robbers attacked him with an axe.
David Lauro was working at Kavanagh's Jewellery Shop in Belfast city centre when two men burst through its doors at around 1415 GMT on Monday.
A struggle ensued and one of the men swung the axe at Mr Lauro's head.
A baby was also in the shop at the time of the robbery and narrowly escaped injury.
Mr Lauro said: "He started swinging the axe at my head. I put my arm up to save and he hit me on the arm and then tried to hit me on the legs. He smashed the counter and tried to grab jewellery."
When asked did he fear for his life Mr Lauro replied, "absolutely".
He added: "He was aiming the axe at my head. He wanted me down.
"There was a baby right in front of the counter. Thank God for the rain cover on her pram because when he smashed the counter the glass spread all over the pram."
It is believed the two raiders got into a small, silver car and drove down Samuel Street in the direction of Millfield.
The first man is described as being 5ft 6ins to 5ft 8ins tall, slim with a thin face, long, sharp nose and dark eyebrows.
He was wearing a black, "deer-stalker hat" with the flaps down, a black sports jacket, a black shirt, silver tie, black trousers and black shoes. The lower part of his face was covered.
The second was about 5ft 6ins to 5ft 8ins tall and was wearing a dark woollen hat with peak and a high visibility jacket with a stripe across the chest.