Northern Ireland road deaths 'halved since 2009'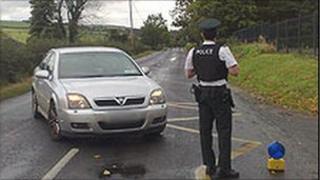 The number of road deaths in Northern Ireland this year is on course to be the lowest since records began in 1931.
So far in 2010, 51 people have died on the roads compared to 102 at the same time last year.
By 31 December 2009, 115 people had lost their lives on Northern Irish roads.
That figure represented an increase of eight fatalities from 2008, which was the lowest annual figure recorded since 1931.
Marking the start of Road Safety Week (22-28 November), Environment Minister Edwin Poots said his thoughts were with the bereaved families.
"Every death has tragic consequences so as road users, we each have a responsibility to do what we can to remain safe," he said.
Brutal reality
During road safety week, a series of events supported by the Department of the Environment as well as the PSNI, Northern Ireland Fire and Rescue Service and others will take place to raise awareness of road dangers.
The minister added: "Over the last decade, deaths have steadily declined. However, the brutal reality of road death is that normality can turn to tragedy in an instant. While deaths are half of what they were this time last year, the recent upsurge in deaths and the anguish and grief that comes with it reminds us that we must never, ever drop our guard.
"I implore everyone to always pay attention, slow down, wear your seatbelt and avoid driving when over-tired or if drink or drugs have been consumed. Pedestrians should always use footpaths, where possible, and wear bright or fluorescent clothing at night.
"With darker evenings, wet roads and more traffic - I would appeal to everybody on the roads to take extreme care. We cannot become complacent. If you make a mistake - it could cost you or another road user their life."