NI ministers raise budget concerns with Clegg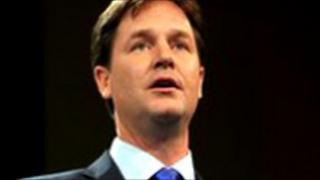 The first and deputy first ministers have raised concerns over the government's spending review with the deputy PM.
Peter Robinson and Martin McGuinness spoke to Nick Clegg at a Joint Ministerial Council (JMC) meeting in London on Monday.
The NI ministers said they were concerned at the review's "potentially devastating effect" locally.
They said they would use JMC "dispute mechanisms" if changes were not made.
A joint statement released by Mr Robinson and Mr McGuinness said:"We are particularly concerned about the capital figures that have been applied and the potentially devastating effect the reduction would have on our local economy.
"The deputy prime minister has acknowledged that the figures are in dispute and has given an undertaking that they will be re-examined by the Northern Ireland Office and the Treasury.
"We therefore hope that this matter can be resolved and obviate the need for us to consider invoking the JMC dispute resolution mechanism."
The NI ministers said the current spending review proposals would "dramatically set back the prospect of future recovery and growth".
Following last month's spending review, the first and deputy first ministers argued that the government had not fulfilled its commitments on providing capital spending to NI.
Stormont ministers were particularly concerned about a 40% cut in the capital spending budget - money which should have been used to build new roads, hospitals, schools and other public projects.
Northern Ireland Secretary Owen Paterson rejected claims that the government had broken its word on the capital budget.
The coalition had been accused of breaking promises of £18bn funding for NI made by Gordon Brown in 2007.
Mr Paterson said the capital fund had been reduced but they were otherwise "carrying on where he left off".