7,000 children take unofficial NI grammar tests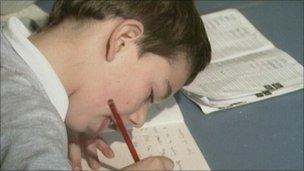 Almost 7,000 children have completed the unofficial transfer test used mainly by Catholic grammar schools.
They sat two separate tests on Saturday with a break for a snack in between.
The exam is run by GL Assessment and covers English and maths in multiple-choice papers.
Children sitting the other tests (AQE), aimed mainly at non-denominational schools, took their first test last Saturday.
Those 7,000 children will sit another two tests over the next two Saturdays.
The exams have been introduced by grammar schools which still want academic selection, in spite of the scrapping of the official 11-plus.
It is the second year that schools have run their own tests, in the absence of the government-run transfer test.
Some children will sit both versions, to keep their options open.