£568k raised in NI for BBC Children in Need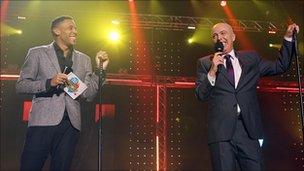 More than £560,000 has been raised in Northern Ireland for BBC Children in Need.
As phone lines closed at 0200 GMT on Saturday, nationally the appeal total stood at £18,098,199 and locally at £568,919.
Westlife, The Script, and Jedward were among those who performed at an Odyssey Arena concert in Belfast for the charity.
The gig was broadcast across the UK as part of the main television coverage.
A special one-hour highlights programme - Children in Need Rocks the Odyssey - will be shown on Saturday evening on BBC One Northern Ireland at 1730 GMT.
BBC Radio Ulster also broadcast live from the gig on Friday night in the company of Ralph McLean and Lynette Fay.
Before heading to the Odyssey, Pudsey was partying at BBC Broadcasting House, meeting up with fundraisers.
BBC Radio Ulster presenters joined in the fun in the build-up to the big gig as Hugo Duncan hosted his programme live in the company of Jimmy Buckley, Crystal Swing, Warren Smyth, Tony Kerr, Boxcar Brian, Kenny Archer and Nathan Carter.
Hugo grew a beard to raise money for the appeal, which was shaved off live on his show on Thursday afternoon by Jason Shankey.
This year Hugo's annual five-day on-air auction raised £22,826.
Last year on the night, in Northern Ireland alone, BBC Children in Need raised more than £623,000 for local projects.
A record-breaking amount of more than £39m was raised across the UK, of which £3.2m was used to fund over 200 projects throughout Northern Ireland.
People can still make a donation to BBC Children in Need by calling: 0345 733 22 33 (standard geographic charges from landlines and mobiles will apply) or logging on here.