Remembering the road casualties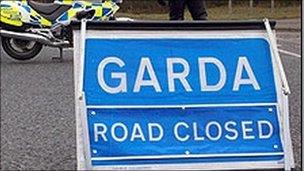 A special inter-denominational ceremony to mark world day of remembrance for road traffic victims is taking place in Buncrana, County Donegal, on Sunday.
The event is organised by the Parc Road Safety Group and will be opened by Noel Brett CEO of the Road Safety Authority.
The ceremony is being held to remember all those affected by road traffic collisions and is open to everyone.
Those who have lost a loved one will be given the opportunity to light a candle and dedicate it in their memory.
Susan Gray, the founder and chairperson of Parc, said the day of remembrance was meant to acknowledge the pain caused by "avoidable collisions".
"It's also to acknowledge the great work done by the emergency services in the event of a collision. The fire service, the guards, the ambulance crews, the hospital staff and countless others," she said.
Parc have also repeated a call to the garda commissioner to abolish the current system in which fees are charged to families for accessing evidence showing the circumstances of an accident.
At present, families or friends of victims must pay a fee of 21 euro (£18) for each copy of a witness statement collected by the gardai and 41 euro (£35) for a sketch of the incident scene.
Irish police said the fee is to cover the cost associated with the material.
Mrs Gray said she knew of some families who had paid 300 - 400 euro (£256 - £342) after a collision.
"They should be entitled to that information, they shouldn't be charged," she said.
"The families pay for the evidence, then the insurance companies pay and the solicitors pay. Any costs should be covered three times over."
Parc met with the garda commissioner in May to ask for the fees to be abolished. The commissioner announced last month that a working-group has been set up to consider the request.
Parc, which stands for Public Against Road Carnage, was set up in 2006 by Mrs Gray.
The organisation runs campaigns to increase public awareness of road safety, provides support for survivors and families and friends of victims of road traffic accidents and lobbies for changes in government policy.
Mrs Gray lost her husband, Stephen, in a traffic accident on Boxing night 2004. Stephen Gray was a hackney cab driver and was struck by an unaccompanied learner driver towards the end of his shift.
Although Mr Gray was tested for drugs and alcohol and found negative, the driver who hit him was not and was actually taken straight home from the scene.
Mrs Gray later discovered that alcohol and drug testing following an accident was not compulsory and set up Parc partly to campaign for a change in the law.
In July 2010 she and other members of Parc witnessed a law they had campaigned for being passed by the Irish government. The law makes testing for alcohol compulsory in every collision which results in an injury.
At Sunday's ceremony there will be a book of remembrance where names of accident victims can be recorded.
Photographs of a lost loved one may also be taken along and will be included in the ceremony.
Those who have lost loved ones but are unable to attend the ceremony can contact the organisers to arrange for a candle to be lit on their behalf.
Mrs Gray said the group has already received photographs of victims and requests for candles to be lit in their memory.
"It's too soon for some people. They just don't feel they can come. Others maybe live in another part of the country and can't make the journey in time," she said.
Parc invites people from Northern Ireland to attend the ceremony on behalf of all those who have lost their lives on Northern Ireland's roads and to light a candle in their memory.
The organisers intend to have the names of those who have died in 2010 in Northern Ireland displayed alongside those who have lost their lives in the Republic of Ireland.
The ceremony takes place in Buncrana Youth Centre on Castle Avenue at 1400 GMT on Sunday 21 November.
Related Internet Links
The BBC is not responsible for the content of external sites.