Killer of Londonderry man Emmet Shiels is jailed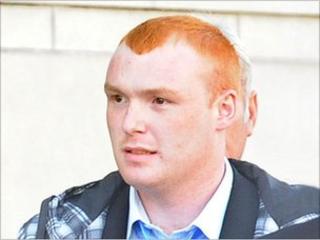 A Londonderry man has been jailed for eight years for the manslaughter of pizza delivery man Emmet Shiels.
A murder trial was halted last month when Gary Meenan, 20, from Bishop Street, pleaded guilty to manslaughter.
Sentencing Meenan, Mr Justice Hart said while it was accepted he had not fired the fatal shot, he was "a willing participant" in the events which led to the death of the 22-year-old.
Mr Shiels was killed in June 2008 six days before the birth of his son.
He was delivering pizzas when he was caught up in a confrontation with masked gunmen, including Meenan, and was shot twice.
Meenan's 20-year-old girlfriend, Nadine Kelly, was given a one year jail term suspended for two years after she pleaded guilty to perverting the course of justice by giving Meenan a false alibi.
'Shattered'
Mr Justice Hart read a statement from Mr Shiels' family which described him as a "hard working young man who was a credit to his family".
"Words cannot fully convey the shattering effect upon a young mother to learn of the death of the child's father in such circumstances a few days before the child is born," the judge added.
Summing up the case Mr Justice Hart said Mr Shiels was part of a group of youths who were trying to track down and chase a group of armed men dressed in camouflage paramilitary style clothing.
The masked gang had already shot at one car in the Bogside when they were confronted by the group in the Creggan area.
As they were confronted, two shots were fired by the gang and it was one, fired from a Glock pistol, which fatally wounded Mr Shiels.
'Justice'
Meenan was identified as being part of the group because while he was masked, it was so "ineffectual" the youths who knew him were able to recognise him and he was also spotted later that night without his mask.
His plea to manslaughter was accepted on the basis that the Crown were unable to prove that while he was part of the masked and armed gang, they "could not exclude the possibility that he didn't realise that any member of the gang would use their firearm to kill or cause serious bodily harm".
Speaking outside the court on Tuesday Mr Shiels' adoptive brother Kevin Moore said the family were "satisfied" at the day's outcome but the quest for justice will continue.
He added: "Justice is never fully accomplished until the suspects involved are dealt with by the law - we are hopeful that day will come."
In sentencing Kelly, Mr Justice Hart said although providing a false alibi "requires appropriate sentencing," he did not think it right to send her to jail as she was a mother and had a clear record.
The judge said that Meenan's sentence took into account his clear record and the fact that he pleaded guilty, even though it was at a late stage.