The murder which shocked a city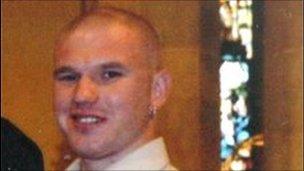 It was a murder which shocked a city, and brought a thousand people onto the streets in condemnation.
22-year-old Emmet Shiels was delivering pizzas in the Creggan area of Londonderry in June 2008 when he was caught up in a confrontation with masked gunmen.
He tried to intervene to defend the gunmen's intended target but they chased him across a grassy area in front of St Mary's Church where he was shot twice.
At the time the attack was blamed on dissident republicans.
Detectives investigating the case said a shot had been fired earlier that night in the Bogside, and Mr Shiels encountered the gunmen as he drove his pizza delivery van along Lone Moor Road.
He was then confronted on Eastway by masked men wearing camouflage suits.
Detective Chief Inspector Frankie Taylor described Mr Shiels as an "innocent man" who became involved in a row "purely by chance", and was "murdered in cold blood for no reason".
He was taken to hospital, but died of his injuries.
From Tyrconnell Street in the Bogside, his girlfriend was expecting their first child.
In the days after his death, 1,000 people attended a vigil in his memory near the scene of the shooting.
Tributes were paid by, among others, the Deputy First Minister Martin McGuinness, Foyle MP Mark Durkan and the then Mayor of Derry, Gerard Diver.
Gary Meenan, 20, from Bishop Street in Derry, was arrested and charged with his murder.
A number of others were arrested and questioned over Mr Shiels' death, but were later released.
During Meenan's trial, Belfast Crown Court heard that Meenan was a member of an armed and masked group which had the "characteristics of a paramilitary gang" and was "openly carrying firearms" in the Bligh's Lane area of the city.
Mr Justice Hart was told that a member of the gang fired at least two shots from close range at a group of young people who had tried to chase them, fatally wounding Mr Shiels.
Meenan's trial was dramatically halted when he pleaded guilty to manslaughter.
He also admitted three charges of assault and possessing a gun with intent to cause fear of violence.
Meenan was jailed for eight years at Laganside Court on Tuesday for the manslaughter of Mr Shiels.
His girlfriend, 20-year-old Nadine Kelly from Celandine Court in Derry, admitted perverting the course of justice by giving Meenan a false alibi and was sentenced given a one year jail term suspended for two years.
After Meenan pleaded guilty to manslaughter Mr Shiels' relatives embraced Meenan's mother outside the court.
His brother Kevin Moore said Mrs Meenan had shown his family great compassion.
"As Gary Meenan's mother said to me up at the court, 'I'm standing behind Gary, but I'm not standing in front of him, and Gary needs to be punished for what he did'.
"For a mother to do that, especially to the family of the victim, it is a very brave thing.
"Emmet was a good, loving person who was working two jobs to try to make a nice, stable life for his partner and soon-to-be child.
"He just never got a chance to do it."
Related Internet Links
The BBC is not responsible for the content of external sites.