NI Children in Need gets under way ahead of concert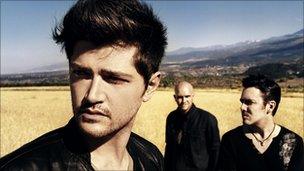 Pudsey and his pals will be taking centre stage on Friday to raise money for Children in Need 2010.
The main event in Northern Ireland will be at the Odyssey in Belfast with a star studded line up including Westlife, the Script and Jedward.
Free tickets for the concert which will be hosted by John Daly and BBC Radio 1's Reggie Yates sold out within hours.
Other acts performing include Hayley Westenra and dance duo Twist and Pulse.
Viewers can tune in to the gig live on BBC Radio Ulster in the company of Ralph McLean and Lynette Fay, from 1900 GMT.
On Saturday 20 November 20 BBC One Northern Ireland will show a special one-hour highlights programme from the Odyssey Arena gig at 1730 GMT.
More than £600,000 was raised for the charity on Children in Need night last year.
This year's theme is "Show your spots, Let's raise lots".
This could be as simple as baking spotty cupcakes or getting the boss to wear spots for the day.
Every penny raised will go to disadvantaged children here and across the UK.
Last year, thanks to the creativity and support of the British public, BBC Children in Need raised over £39m with hundreds of projects across Northern Ireland benefiting from the record-breaking total.
Earlier in the week, BBC Northern Ireland presenters took over Belfast restaurant 27 Talbot Street, in a bid to raise as much money as possible for the appeal.
For one night only, Stephen Nolan led his hospitality "dream team" as he assumed the position in the kitchen as Head Chef.
Stephen was tasked with creating his own menu and delivering three delicious courses for 70 hungry diners.
Joining Stephen as maître d' for the night was Alan Simpson, who worked his charm on diners as they arrived for the evening's entertainment.
A veritable feast of "expert" waiting and bar staff, including Kim Lenaghan, Cecilia Daly and Barra Best, with Noel Thompson acting as official paparazzo, completed this hospitality dream team.
Highlights from the evening will be shown on Friday night's television programme.