Explosives accused due to appeal to supreme court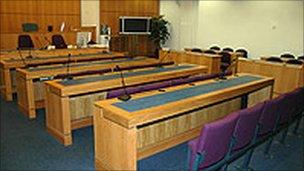 A Belfast man facing explosives charges may go before the UK's highest court in a bid to be released on bail.
Paul Gerard Stitt, 39, is accused of making and possessing a pipe bomb with intent to endanger life.
The charges relate to the discovery of a device outside a house in the Newtownabbey area in January 2009.
Mr Stitt, of Raby Street, Belfast, was refused bail last month after a judge decided the risk of any potential re-offending was too high.
An application for leave to challenge that ruling at the Supreme Court in London by certifying a point of law of general public importance was due to be heard on Thursday.
The highly unusual move was put on hold after it was instead agreed that a fresh request for High Court bail could be made on the basis of new material.
Should that fail to secure Mr Stitt's release, his legal team are understood to be prepared to press ahead with their original plan.
The potential point of law involves a comparison between the presumption of innocence and any perceived risk of re-offending.
Following discussions on Thursday, it was indicated that a judge would first be assigned to make another assessment on the case.
Mr Justice McLaughlin told Mr Stitt's lawyers: "I don't have any problem with facilitating a proper consideration and disposal of the point one way or another."
During last month's failed application it was claimed the suspect is linked to the device by DNA evidence.
The court was told a swab taken from its copper casing produced a partial profile which was a potential match for his own DNA.
Mr Stitt has claimed any contact with the copper piping could have come through building work at different locations.
Mr Stitt's barrister, Martin O'Rourke, argued the case against him was weak and could not justify keeping him in custody.
The prosecution claimed, however, that there was a risk of further offences or even that the accused may flee if released.