Auction of NI art for BBC Children in Need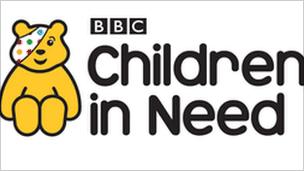 Six pieces of work by leading Northern Ireland artists are up for grabs as part of the BBC Children In Need appeal.
Nicola Russell and Ross Wilson were among those captured on film creating the items during the BBC NI television series Art Space.
Now the artefacts will be auctioned for the benefit of disadvantaged children in Northern Ireland.
Five paintings and one sculpture are featured in the online auction.
The items available to bidders are: Irish Thoroughbred by Nicola Russell; Cow by Paul Bell; Two Faces by Jack Packenham; Portrait of CS Lewis as a child created by Ross Wilson; Abstract by Ben Allen, and Sculpture of a Baby by Sheila Wallis.
The artwork is now available for auction on the charity's official auction site on eBay until Sunday, 21 November, which can be accessed here.
This year's BBC Children in Need Appeal is on Friday and is live on BBC One Northern Ireland and BBC Radio Ulster from 1900 GMT.
Further information about the charity can be obtained by contacting the BBC Children in Need office in Northern Ireland at ni.cingrants@bbc.co.uk or by calling 02890 338221.