Young and unemployed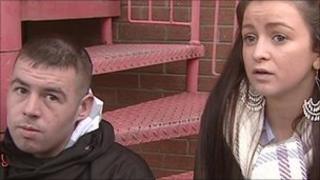 Unemployment figures for Northern Ireland show there was an increase of 400 people "signing-on" in October.
That is a rise on the previous month's figures and means the current number of people in NI claiming unemployment benefit now stands at 58,600.
While there has been a slight dip in the number of youth claimants - that is those under 25 - they still account for almost one third of all those on the register.
Liam Patterson from Belfast is one of them.
The 23-year-old has had a few jobs since leaving school. He had a temporary job in Royal Mail which lasted for about a year and a half.
When that finished he got a sales assistant job in a sports shop but quit to find a permanent full-time job.
He has now been on the dole for a year and a half.
'Very depressing'
"I've been to recruitment agencies, job centres, sending off application forms and CVs for construction and building sites, anything that's out there, I try to get my hands on but I can't get my hands on it," he said.
"It is very, very depressing.
"There's plenty of work out there. Employers are letting people down by not getting back to them, by not responding or writing or phoning them."
Despite having an NVQ level one and two in welding and seven years painting and decorating experience, Liam has been unable to find work.
"My hopes and ambitions for the future are to get a proper job and look after my family," he said.
"I've two kids at the moment and I find it hard to look after them.
"I just try and do my best for them, try and spread my money, especially coming up to Christmas.
"It's not easy at all. It's hard."
The father of two said it is easy to become "down and depressed" when you do not have a job.
"People like to go out and work," he said.
"I'd prefer to go out and work for my money and look after myself and my family."
Rachel Donaghy is also from Belfast.
'None of them got back to me'
She worked in the Co-op until a year ago.
"Since then I've been sending out loads of applications for jobs - none of them have got back to me," she said.
"It's really depressing being on the dole. It does your head in having no reason to get up in the morning, it's just really annoying.
"I try to keep myself busy, coming down to the Ashton centre in north Belfast, looking for jobs, sending CVs round shops, doing wee courses, stuff like that."
Like Liam, she has found not having a job or routine has left her feeling "depressed and bored".
"You get fed up, you really want to get out there and do something with your life but you can't as there's no-one really to help you with jobs, there's no jobs out there."
The 19-year-old has been applying for sales jobs and office work. She said lots of her friends are in a similar situation.
"I get £100 every two weeks. It is just depressing not having any money to do things, it's not enough money to live on."
Rachel hopes her luck will change in the New Year.
"I really want to find a job, I can't stay on job seekers allowance anymore," she said.
"I'm going to do a back to work course, hopefully this will help me find a job."