Profile of new Sinn Fein MLA Pat Sheehan
By Martina Purdy
BBC NI Political Correspondent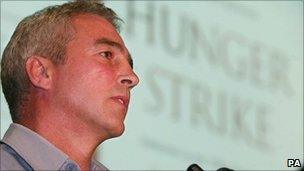 A big cricket fan is how one friend described the new MLA for West Belfast.
However Pat Sheehan, 52, who is replacing Gerry Adams, does not list the sport on his official party biography.
Not surprising, as Mr Sheehan is filling rather large republican shoes.
Sinn Fein has taken care to reveal a pedigree that would appeal to the local electorate: Irish speaker, hurler, and, most significantly, a former IRA prisoner who followed republican icon Bobby Sands onto the 1981 hunger strike.
Unlike Gerry Adams' past, Pat Sheehan's history is more of an open book.
He joined the youth wing of the IRA as a teenager, when aged 16, loyalists fired into his home in a bid to kill him.
By the age of 19, he was jailed for trying to bomb a cash and carry and sent to the Maze prison.
By 1981, the H-blocks had garnered world attention due to the hunger strikes.
Bobby Sands was the first of ten men to die.
Pat Sheehan began the hunger strike in August and endured 55 days without food.
He resisted pressure to come off the fast and was near death when it ended it October. During his years in prison, his sister passed away.
Sheehan was released from prison in 1987. A hardened republican, he was soon back in the dock for leaving a bomb at a Belfast security checkpoint and in 1989 was sentenced to 24 years.
Back on the wing, he shared a cell with another veteran republican, Danny Morrison.
Sheehan passed the time in prison by gaining a first class honours degree in philosophy and politics.
He was released under the terms of the Good Friday Agreement. In 2006, he married his long-term partner Siobhan O'Hanlon, herself a well-known republican.
She died that year after a battle with cancer. The couple had one son.
Another fact about Sheehan which is not on his CV is that his mother was active in the SDLP until the hunger strikes when she joined Sinn Fein.
In an interview prior to the release of his film Hunger, director Steve McQueen revealed that he had spoken to Sheehan, now a "self-employed businessman living in a middle-class area on the edge of west Belfast".
Sheehan has also been active in Sinn Fein's international department, working on conflict resolution in the Middle East.
More recently, he has worked with ex-prisoners and has been "national co-ordinator" organising the 30th anniversary commemorations of the 1980 and 1981 hunger strikes.
"A very nice fellow," is how one west Belfast resident described Sheehan.
But the Traditional Unionist Jim Allister has another view, describing his co-option to the assembly as "obscene".
"Sheehan's presence at Stormont, like Adams', is an affront to the democratic process," he said.
Sheehan is one of five candidates that the party is preparing to stand in west Belfast next year. He will be under pressure to match the record delivered by the Sinn Fein leader: five out of six assembly seats.
Gerry Adams seemed confident that the party did not need him on the ticket to win West Belfast.
Although he has been around a long time, Sheehanis something of a mystery to the media. He declined interviews last night but is expected to speak publicly for the first time on Wednesday.