Pro Bono lawyers' choir do justice to songs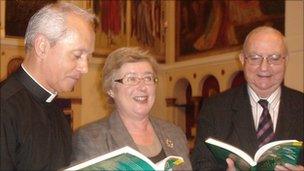 Move over the singing Priests... it's time for the singing lawyers.
A choir of 50 solicitors and barristers from across Northern Ireland are hoping to do justice to a host of Christmas songs.
Singing is no trial for this band. Strong on conviction, they have swapped the scales of justice for the Doh-Re-Mi of musical scales.
The choir, known as the Pro Bonos, are keen to out-bono Bono when they appear in a charity concert.
The venue is St George's Church, Belfast, on 14 December.
"We want to be known for musical records, not criminal ones," said choir chairman and Belfast solicitor Joe Rice.
Of course, there have been many jokes about how they might murder a decent song but the lawyers are used to it.
"Now the choir has grown and we have over 50 performers from Ballymena to Ballynahinch.
"We even have a Brian Kennedy in our choir but, unfortunately, it is not the famous one."
The barristers and solicitors meet once a week to sing together - under the musical direction of Michael Clendinning and accompanied by Linda Aitcheson.
"Some people said we should include songs like 'I Fought the Law' or 'I Shot the Sheriff' in our repertoire, but we've tried to keep our songs on the right side of justice," said Mr Rice.
"The only judge we want to come before is Simon Cowell."
The choir's patrons include retired judge John Curran, Lady Daphne Trimble and Father Eugene O'Hagan of The Priests fame.
Their sponsors are Law Link NI, the Law Society and Northern Ireland's first millionaire lottery winner Peter Lavery.
Funds will go to the Make A Wish Foundation for children with life-threatening illnesses.
Related Internet Links
The BBC is not responsible for the content of external sites.