Belfast street works suspended to boost Christmas trade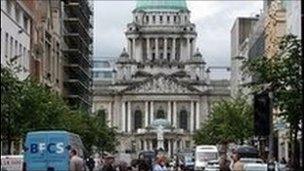 Road works aimed at giving Belfast city centre a revamp are being halted over the Christmas period.
The £30m 'Streets Ahead' project was launched in April 2009 and is aimed at making the city centre more attractive with new street lighting and seating.
But the work has led to major disruption for traders and shoppers faced with a maze of plastic barriers across the main road.
Social Development Minister Alex Attwood said barriers would be removed.
"The red and white plastic barriers will be completely removed from Donegall Place/Castle Place," he said.
"Importantly, when the work recommences in January it will involve reduced works to finish paving, install lighting masts and street furniture, and implement traffic control regulations.
"They will not be on the same scale as over the past months and will be concentrated on the east side of Donegall Place and in Castle Place."