16m-high masts appear in Belfast city centre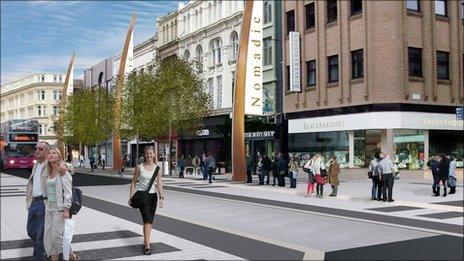 Anybody strolling through Belfast city centre cannot have failed to notice two massive new structures emerging on Donegall Place.
They are the first two of eight "feature lighting masts" which are being erected as part of the Belfast Streets Ahead Project.
The masts will all be 16.2m in height and weigh about 3.5 tonnes, with a foundation of 17 tonnes of reinforced high strength structural concrete.
Each one will bear the name of a significant ship built in Belfast and will stand on the east side of Donegall Place.
The cost of the eight masts is £373,000. The first two are being installed this week, while work to put up the other six will start in January 2011.
The Department of Social Development, which is behind the project said: "The feature lighting masts have been inspired by many elements of Belfast but most of all by the maritime traditions.
"They have been designed to create a significant impact on the street while also taking into account the historic setting."
The masts, which are cased in copper, will be lit up and represent some of Belfast's famous ships - Titanic; Olympic; Oceanic; Britannic; Laurentic; Celtic; Nomadic and Traffic.
They have all been engineered and built in Northern Ireland.
"The masts will be an iconic public art feature in Belfast city centre for generations to come and will be synonymous with Belfast in much the same way as the 'Little Mermaid' is with Copenhagen or the 'Molly Malone' sculpture is with Dublin," the DSD said.
"Along with the other enhancements to Donegall Place, the masts will reinvigorate the environment, engage the community, lend existing buildings a new lease of life and reap rewards for the local economy through tourism."
The Belfast Streets Ahead Project is a £28m investment by DSD in 14 streets in Belfast City Centre.
Construction work commenced in the first streets in July 2007 and in Donegall Place and Castle Place in May 2009. These are due to be completed by March 2011.
Shoppers wil be pleased to learn that city centre building work is to be suspended from next weekend until after Christmas.
The removal of plastic barriers from Donegall Place and Castle Place would be "a welcome relief for all visitors and shoppers," said Social Development Minister Alex Attwood.
"I hope that everybody will see the scale of what has been going on in making downtown Belfast more attractive for all," he said.
When construction resumes on 3 January, it will not be on the same scale as before, with some work left on finishing pavements, installing lighting masts and implementing traffic control measures.
Related Internet Links
The BBC is not responsible for the content of external sites.