First minister meeting family of Ranger Aaron McCormick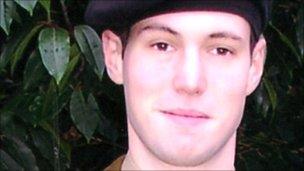 The First Minister Peter Robinson is visiting the family of Ranger Aaron McCormick.
The 22-year-old, from Macosquin in County Londonderry was killed in an explosion in Afghanistan on Remembrance Sunday.
He was helping to clear roadside bombs in the Nad-e Ali area of Helmand when he was caught in a blast.
The DUP leader is being accompanied by MP, Gregory Campbell and MLAs Adrian McQuillan and George Robinson.
A special assembly will be held on Wednesday at Aaron's former school, Coleraine Acadmical Institution.
"On Monday I spoke to a lot of staff, Aaron only left school in 2006 having completed his A levels in chemistry, mathematics and physics," said Dr David Carruthers, the principal.
"His teachers remember him very well. What comes through really loud and clear is what a good lad he was.
"He's remembered as polite, always got on very well with teachers and pupils.
"It was clear through his time at school that what he always wanted to do was join the forces and shortly after leaving school he joined up and he was very proud to be a member of the Royal Irish Regiment.
"It was absolutely Aaron's intention to make a career of being a soldier which just makes it all the more terrible, such a terrible loss at such a young age."
Dr Carruthers said many former pupils who had known Aaron had called into the school or telephoned.
"I think really they were just touching base with what they all had in common, as in having been through the school and I think they just wanted to make sure the school knew what had happened and really just get a collective sense of how tragic this is," he said.
It was Ranger McCormick's second tour of duty in Afghanistan, where he was involved in detecting mines.
Lt Col Colin Weir, commanding officer of the 1st Battalion, the Royal Irish Regiment, said: "Ranger Aaron McCormick was the epitome of the Irish infantry soldier - tough, selfless, good-humoured and full of compassion."
He said his death had left a gap in his ranks "no ordinary man could fill".
Ranger McCormick leaves behind his parents, two sisters, brother and his girlfriend.
Reverend Mike Roemmele said he had visited his family, who were only just back from a holiday.
"They are obviously completely devastated by the news," he said.
"He has sadly only had a couple of months there and he is the first of the regiment who has died on active service since he and his friends were sent out."
Mr Roemmele said Aaron was "a lad who was full of life, had a great deal of fun and had a number of interests but his primary interest was his service and being with his friends in the Army".
Ranger McCormick's death takes the number of UK servicemen and women to have been killed in Afghanistan since 2001 to 344.
Related Internet Links
The BBC is not responsible for the content of external sites.