Pat Sheehan picked to succeed Gerry Adams at Stormont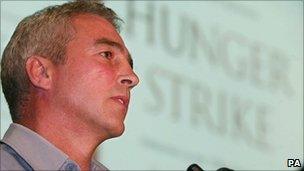 Sinn Fein has chosen Gerry Adams' successor as an assembly member.
He is Pat Sheehan, 52, a former IRA prisoner who spent 55 days on hunger strike in the Maze in 1981.
Sinn Fein currently holds five out of six assembly seats in west Belfast and Mr Sheehan will be co-opted to succeed Mr Adams in Stormont.
Mr Adams announced on Sunday he would be stepping down as both an MP and MLA to stand for the Irish parliament in the next general election.
He will remain as West Belfast MP until the Irish election when he will stand in Louth.
The party also has five MPs, including Mr Adams, and four members of the Irish parliament.
Mr Sheehan was picked by the party at a selection convention in the Irish Republican Felons clubrooms on Tuesday evening.
He will be sworn in at the assembly within days.
Mr Sheehan was first jailed at the age of 19, and shortly after his release in 1987, he was imprisoned again for 24 years for bombing offences.
While in prison, he earned a first-class honours degree in politics and philosophy before being released under the terms of the Good Friday Agreement.
He was married to the late republican Siobhan O'Hanlon and has one son.
For next May's assembly election, Mr Sheehan will be joined by sitting West Belfast MLAs Jennifer McCann, Paul Maskey, Sue Ramsey and Fra McCann.
Related Internet Links
The BBC is not responsible for the content of external sites.