Soldier's family 'devastated' by Afghanistan death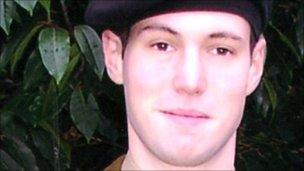 The family of the County Londonderry soldier killed in Afghanistan on Sunday have been left completely devastated, a minister has said.
Aaron McCormick was killed when an improvised explosive device detonated while he was on patrol in Nad-e Ali, Helmand province.
The 22-year-old Royal Irish Regiment soldier was from Macosquin.
Reverend Mike Roemmele said the soldier had joined the Army as a young man and had served in Afghanistan before.
"I've just come back from seeing the family who arrived home from a holiday this morning and they are obviously completely devastated by the news that they have received," the minister said.
"He has sadly only had a couple of months there and he is the first of the regiment who has died on active service since he and his friends were sent out."
Mr Roemmele said Aaron was "a lad who was full of life, had a great deal of fun and had a number of interests but his primary interest was his service and being with his friends in the Army".
The NI secretary of state described the death as "a tragedy beyond words" for his family and comrades.
"On the day that we remembered all those who died defending freedom and democracy, another brave young man gave his life in that cause," Owen Paterson said.
"This conflict is global but the grief and pain of loss is intensely personal.
"My thoughts are with the family and friends of this courageous soldier."
The regiment is based in Tern Hill, near Market Drayton in Mr Paterson's Shropshire constituency.
East Londonderry MP Gregory Campbell said the local community was in shock, while Ulster Unionist leader Tom Elliott said the soldier was a hero.
"When the 1st Royal Irish were deployed to Afghanistan there was a sense of foreboding that at some point through the deployment casualties would undoubtedly unfold," Mr Campbell said.
"I think everyone was steeling themselves for the first of the casualties and this young man unfortunately has been that casualty."
The DUP MP said soldiers should get the support of the community when they are deployed.
"The best thing we can do is ensure they have the best equipment, the best resources and have our total support," Mr Campbell said.
UUP leader Mr Elliott said: "Brave young men and women in Northern Ireland have given their lives to protect us and our freedom.
"Even on the day that we remember them, one more hero has given his life."
The soldier's death raises the toll in Afghanistan since 2001 to 344.