Judge to rule on bail for murder accused Mark Haddock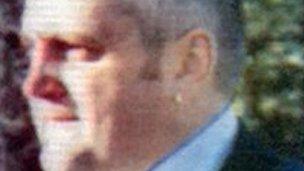 A judge will rule next week on whether former top loyalist Mark Haddock should be granted bail.
Haddock is accused of murdering UDA boss Tommy English, UVF membership and a catalogue of other offences.
Opposing bail on Friday, a prosecution lawyer said Haddock faced a separate charge of murdering William Harbinson.
He was found handcuffed and beaten to death in an alleyway in the Mount Vernon estate in north Belfast on 19 May, 1997.
The lawyer said that, if bailed Haddock, originally from the Mount Vernon estate, might abscond, interfere with witnesses or be attacked himself.
However, a defence lawyer claimed that the case against Haddock and his co-accused was "toxic" and based on the uncorroborated word of two career criminals who had perverted the course of public justice in the past.
He said that, if freed, Haddock's family were prepared to lodge up to £10,000 together with the deeds to his mother's home as surety.
He said Haddock would live at a secret address already agreed with police.
At Belfast Crown Court, the judge proposed ruling on the bail application on Wednesday.