Man dies in Strabane lorry crash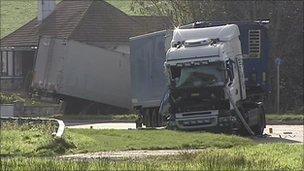 A 43-year-old man has died in a traffic accident involving two lorries in County Tyrone.
Declan Harvey, of Lisnafin Park in Strabane, died in the accident on Melmount Road near Sion Mills at about 0330 GMT on Wednesday.
Another man was taken to hospital with lower leg injuries which are not thought to be life-threatening.
Police said the road, which is part of the main route between Strabane and Omagh, would be closed for some time.
Parish priest Fr Michael Doherty said Mr Harvey's family were trying to come to terms with his death.
"I spoke to the family this morning and they find it very unreal," he said.
"Because of the suddenness of it there's great sadness around the area and parish."
John McPoland from the Ambulance Service said sub-zero temperatures made working conditions very difficult for the emergency services, and they had to work for some time to free the injured man from his vehicle.
"It is very sad that at this time of year, coming up to Christmas, that some family's going to be without a loved one," said Mr McPoland.
"We would appeal to everybody who is driving at all times, but especially late at night and early in the morning when traffic will increase coming up to Christmas, to be very careful when you're on the roads."