Read my lips - Is Nadine Coyle being bullied over her accent?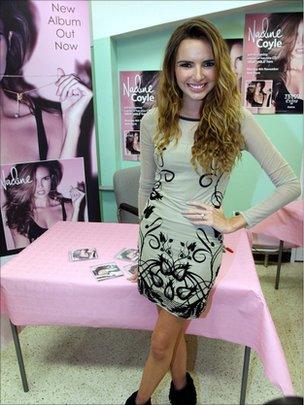 Nadine Coyle said she is being bullied because of her accent... and this Londonderry 'wan has had enough.
Several groups have been set up on social networking sites deriding the pop princess's twang but has the joke been taken too far?
In an interview with the Belfast Telegraph Nadine said people wouldn't make fun of her accent if she was Indian, Scottish or from the north of England. But is she right?
Belfast Telegraph showbiz writer Maureen Coleman who interviewed the Girls Aloud star last week said she thought she was being treated unfairly.
"The point she was making was because she comes from Northern Ireland she is being picked on.
"Cheryl Cole has a strong Geordie accent but she doesn't get half of the stick Nadine does - and Nadine used the word bullying because that's how she feels about the issue.
"She has been taking a lot flak about it so I put the question to her and she responded- I don't think it was a case of a sympathy vote.
"I noticed this time when I talked to her, her accent was much more similar to her original voice.
"She seems to have dropped some of the transatlantic twang and has resorted to her natural Derry accent
"When I interviewed her we were also talking about Christine (Bleakley) and she gets an awful time about her accent from some of the national press."
Mayor of Derry Colum Eastwood doesn't have an issue with the Girls Aloud stars' accent.
"I can surely understand Nadine, it's ridiculous we are spending all this time talking about her accent, she is a top-class singer and a great ambassador for this city.
"I do think that there's an issue of discrimination, bullying and it's also an issue of class."
DUP MP for East Londonderry Gregory Campbell told the BBC the debate was rather banal.
"I think its a whole load of nonsense, sometimes her accent does grate a bit and it's a wee bit embarrassing.
"The fact is, in some interviews she gets that whole mid-Atlantic thing, it happens to a lot of people in entertainment and sport as well," Mr Campbell added.
"Whenever some people are successful there is an inclination at home to bring them down but she is a great ambassador for Londonderry and Northern Ireland."
But Mr Eastwood said it was important "to remember we are talking about a human being."
"It is the constant repetition of the issue: Nadine is talking about it because she was asked about it.
"I do think it is bordering on bullying this girl - she has a a fantastic voice and we should concentrate on that."
Gregory Campbell said political correctness can sometimes be taken too far.
"We are bordering on the banal here- I sometimes joke about MPs in the north east, I say that we need subtitles to understand what they are saying.
"I would hope that my colleagues at Westminster didn't accuse me of being racist or bullying, it's just I can't always understand what they are saying."