Enterprise Minister calls on banks to 'start lending'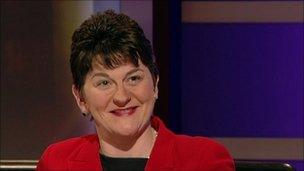 The Enterprise Minister, Arlene Foster, has called on banks to help the economy by starting to lend to NI businesses.
The minister was answering questions in the assembly about reports published by banks on the NI economy.
Responding to a question from DUP MLA Jonathan Bell, the minister said she was "fed up" with economists predicting weak performance.
"It is about time they (the banks) helped the Executive and the whole of the NI economy", she said.
On Monday, a report published by the Ulster Bank said that October saw the sharpest decline in business activity in NI for three months.
The report stated that NI saw the fastest rate of decline in new orders of all the UK regions in each of the last 20 months.
Meanwhile, Northern Bank was more upbeat in its latest assessment on Friday, forecasting annual growth of 1% this year, rising to 1.8% next year.
Ms Foster said it was "very difficult and confusing" for businesses hearing "conflicting evidence".
"It does frustrate me when I hear banks talking about the lack of confidence in the small to medium size enterprises throughout NI.
"Well who is causing that lack of confidence, it is the banks causing that lack of confidence."
The minister said it was time that banks helped the Executive and the economy by starting to lend money.
Commenting on the Ulster Bank's report, the bank's chief economist for NI, Richard Ramsey, said: "Whilst the October survey saw the UK post its strongest rate of growth in three months, Northern Ireland's private sector firms reported their sharpest rate of decline over the same period.
"This highlights that the two economies continue to move in opposite directions.
"To date, there has been only one month during the last 35 months when Northern Ireland firms have not posted a fall in business output."
He said manufacturing remained the only sector continuing to report growth in Northern Ireland.
On Friday, Northern Bank reported that people staying at home rather than going on holiday was helping to boost the local economy.
Hospitality as well as manufacturing, agriculture and retail are all still growing despite a weak recovery overall, the report added.
Following the publication of the "Quarterly Sectoral Forecasts" report, Ms McGowan said that rebalancing the economy from public to private sector growth is "no longer an aspiration, but a necessity".
The report said that 2.5% growth in manufacturing was a scale of growth not seen since 2005, with 700 new jobs created.
Related Internet Links
The BBC is not responsible for the content of external sites.