Durkan aide Callaghan to take his Foyle assembly seat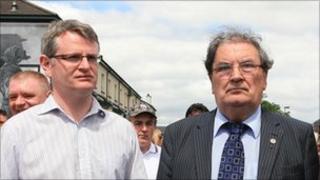 The SDLP's Mark Durkan is to be replaced at Stormont by his political advisor Pól Callaghan.
The SDLP announced on Tuesday that its leader on Derry City Council, Helen Quigley, had pulled out of the race.
Another candidate, Mark H Durkan, nephew of the MP, told the BBC on Thursday he was also standing aside.
Mr Callaghan said: "We know the people of Derry are hungry for change and as a new representative I can help build a newly energised SDLP to deliver it."
The party confirmed on Thursday evening that Mr Callaghan would be co-opted to the assembly.
Mark Durkan is leaving Stormont to concentrate on his duties at Westminster.
The former mayor of Londonderry, Helen Quigley, had been widely tipped as his Stormont successor.
However, she announced on Wednesday that she would not contest the assembly or local government elections next year.
It is understood her decision follows a party disagreement over who should replace Mr Durkan.
Foyle MP Mark Durkan said he deeply regretted her decision and had hoped she would reconsider.
Mark H Durkan told the BBC he pulled out because he would rather win an election than be co-opted.