NI beach water quality improves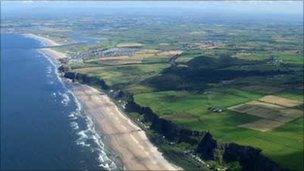 Northern Ireland's coastal bathing areas are getting better, according to a water quality survey.
Two out of 24 sites tested around the Northern Ireland coast failed to meet the required European standards.
Heavy summer rain had led to pollution near key beaches in previous years, but more bathing water sites than ever were given an "excellent" rating despite a wet summer.
The two areas to fail were Ballyholme and Newcastle, in County Down.
Both locations have sewerage systems that are being updated, and it is believed that water quality will be up to standard within two years.
Northern Ireland Environment Minister Edwin Poots said: "I am encouraged that despite another wet July, only two bathing waters failed to achieve the mandatory requirements for the EC's Bathing Water Directive.
"I am also encouraged that 16 of our 24 bathing waters met the guideline standards, which are a requirement for the coveted Blue Flag Award, an improvement from 11 last year."
Water at every location is tested about 20 times by the Environment Agency during the summer months before the quality is announced.
In the past Northern Ireland has been plagued by poor results, caused mainly by under-investment in water treatment systems.
New tougher standards are due to be introduced under European rules and will prove an even tougher test for waste water treatment in Northern Ireland.
Related Internet Links
The BBC is not responsible for the content of external sites.