Ernst & Young to create 300 new jobs across Ireland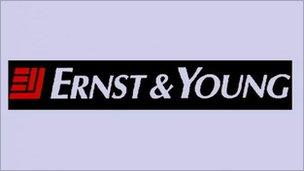 Accounting and consulting firm Ernst & Young is to hire more than 300 workers in Ireland the next 18 months.
The company is recruiting graduates, accountants, tax specialists and senior executives for offices in Dublin, Cork, Limerick, Waterford and Belfast.
It is expected that 25 of the new jobs will be based in Belfast, where about 130 people are currently based.
Ernst & Young said its expansion is a response to new business opportunities ahead of the economic recovery.
The company employ 1,100 people in the Republic and Northern Ireland.
Half of the new jobs are for recent graduates, and it is hoped all of the positions will be filled within 18 months.
A hundred new jobs will be at its advisory business and 50 are top jobs in areas like tax, accountancy and advisory services.