Trapped puppy reunited with owners after two-day ordeal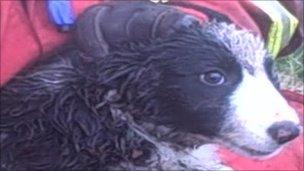 A dog trapped 30ft below the ground has been freed after a two-day rescue operation.
The puppy fell down a hole at 1400 GMT on Sunday while out for a walk with its owners in the Belfast hills.
The police, the Fire and Rescue Service and the USPCA were called in after the alarm was raised.
The rescue had to be abandoned on Sunday and Monday because of poor weather conditions on Black Mountain.
Food and a hot water bottle were lowered down the hole.
Rescuers finally freed Megan at 1400 GMT on Tuesday.
Alan Ward from the USPCA said it was a difficult rescue.
"The hole itself was a very narrow shaft, quite rugged the whole way down, it wasn't a straightforward rescue."
He also paid tribute to those who had worked to free the dog.
"A lot of the guys from Fire and Rescue Service, a lot of volunteers that were up there have grown pretty attached to her over the last few days," he said.
"We've spent a lot of time up there on our bellies, lying staring down this hole and just wondering how on earth we're going to get this dog out of there but thankfully she's here now."
Megan was examined by a vet and given the all clear.
She was then reunited with her owner, ten-year-old Dylan Lyttle.
His father, James said the whole family was relieved to have her returned safely.
"We didn't think she would last the night again, so we're all pleased it's turned out well."
The family said they would be treating Megan to a hearty meal, a warm bath and lots of hugs when she gets home.