Fifty jobs lost from Armagh Down creamery in Newry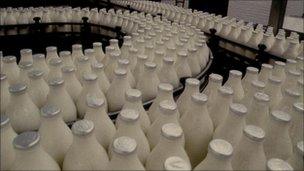 Fifty jobs are to be lost in the local dairy industry with the closure of the Armagh Down creamery in Newry.
The bottling plant has been in operation since 1935.
Its owner, Fane Valley Co-op, blames competitive pressures for getting out of liquid milk.
The Fane Valley brand has approximately a 5% share of the local milk market and the business has now been sold to the market leader, Dale Farm.
Consultations about redundancies are now underway with staff at the creamery in Newry.
Trevor Lockhart, chief executive of Fane Valley Co-op said, "The liquid milk market in Northern Ireland has become increasingly competitive over recent years, with processor margins declining through a combination of increased raw milk and processing costs and selling prices which remain broadly unchanged."
Dale Farm plans to service the additional bottling business from its Pennybridge site, near Ballymena.
The deal is subject to clearance from the Office of Fair Trading.
Fane Valley said it will continue to be involved in milk processing, but will now focus on milk powder and butter processing in its Armagh Down Creameries in Banbridge.