PSNI to resume search for body of Arlene Arkinson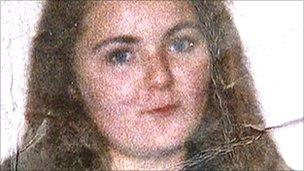 The PSNI has told a preliminary hearing at the coroner's court that its investigation into the disappearance of teenager Arlene Arkinson is ongoing.
The 15-year-old from Castlederg, County Tyrone, went missing in 1994.
Her body has never been found, but she is believed to have been murdered. Robert Howard was acquitted at trial of her murder in 2005.
Her family said they were pleased to hear that the PSNI planned to carry out searches for Arlene's body next year.
Police had previously said they would only conduct new searches if new evidence came to light.
It is not clear what, if any, developments or evidence have prompted the search to restart in Northern Ireland.
Arlene's sister, Kathleen said they had not been expecting the police searches to resume.
"We are pleased that another search is continuing for Arlene and we're glad that they're still looking for Arlene," she said.
"What we've heard today has given us some peace of mind.
"We want to bring Arlene home and to give her a decent burial.
"It's been a long time and we're going to keep on because we want justice for Arlene and the way it's going now we think things are pushing on a bit more for us. It's given us a wee bit of hope."
The family want an inquest to be held to examine how the RUC conducted its investigation into her disappearance and the acquital of Howard for her murder.
Legal discussions are ongoing to determine the scope of the inquest.
The family and their solicitors want it to be wide-ranging.
A report by the Police Ombudsman in 2008 said police treated her disappearance as a missing person inquiry for too long rather than a potential abduction or murder.
It also said they took too long to arrest the main suspect, Robert Howard.
Although they had grounds to do this within 48 hours of her disappearance, it did not happen until 46 days after Arlene had first been reported missing.
As a result, police were not able to get the clothing Howard wore on the night of the disappearance and it allowed him the opportunity to dispose of evidence.
Arlene vanished near her home in Castlederg after attending a disco at Bundoran in County Donegal with friends in August 1994.
She was last seen in a car driven by Howard.
Howard was questioned and later charged with her murder, but he was found not guilty in court three years ago.
In October 2003, Howard was found guilty of murdering Hannah Williams, 14, from Deptford, in south London, whose body was found in a cement works in Northfleet, Kent, in March 2002.