Millie Martin murder accused refused bail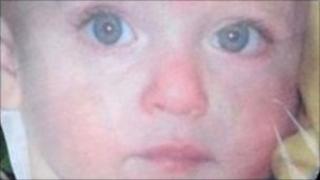 A man accused of murdering a 15-month-old baby in Enniskillen last December, has again been refused bail.
Millie Martin suffered fractured ribs and a blow to the stomach days before she died last December.
Barry McCarney, 31, denies murdering the child.
The third application on behalf of Mr McCarney was made in "substantially changed circumstances" as the baby's mother is now a suspect in the case.
Delivering his decision, district judge Liam McNally said strenuous submissions had been made to the police during Mr McCarney's interviews that Rachael Martin should be treated as a defendant.
Ms Martin appeared in court in September charged with wilfully neglecting a child in a manner likely to cause unnecessary suffering or injury.
The prosecution objected to bail for Mr McCarney on grounds of interfering with witnesses, committing further offences in doing so and that he would not turn up for his trial.
Judge McNally said he felt the first two objections could be dealt with by strict bail conditions but he had serious concerns that the accused would not turn up for his trial.
He added that, having read the pathologist's reports, it appears the injury that caused baby Millie to lose consciousness occurred shortly before she was taken to hospital and that there was also evidence of sexual assault.
He said there was a strong case against Mr McCarney and that this was one of the most serious cases he had had to deal with.
In the months prior to her death, Millie had suffered a number of injuries, including broken ribs.
The judge said there had been a previous breach of Mr McCarney's bail conditions and that the arguments against giving bail were stronger than the presumption of innocence. Therefore he refused the application.
He said it was likely the preliminary enquiry would take place before Christmas.