Lisburn rector reclaims non-stop preaching record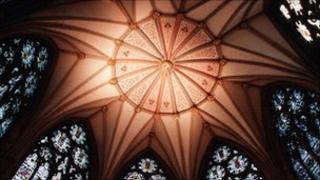 A Lisburn rector has reclaimed the church record for the longest non-stop sermon.
Reverend Ken McReynolds preached without a break for five hours 50 minutes on Saturday in Lambeg Church.
The Church of Ireland minister first set the record in 2005 with a five-hour sermon, but lost it to an English minister who beat him by 30 minutes.
Although he had been aiming for a full six hours he said the delivery went well.
His wife and seven other parishioners stayed throughout the marathon and other members of the congregation did stints to lend moral support.
Speaking to the Newsletter Mr McReynolds said he had kept going by taking honey and lemon to soothe his throat.
"I was also really hungry afterwards as I didn't eat much beforehand or during it," he said.
Irrepressible rector
Despite being a genuine record-breaker the rector will not be featured in the next edition of the Guinness Book of Records as the famous books rules would have made it too easy for him.
"They demand you stop for 10 minutes every hour - if I did that I could have gone on all day - so it is just an unofficial record within church
circles," he said.
After such a feat of endurance, Mr McReynolds would surely have been forgiven for insisting on Sunday as a day of rest.
But the irrepressible rector was back in the pulpit on Sunday for his normal evening service.
And if his record is threatened again will he seek to defend it?
"I think if I lose the record again this time I will lose it, I don't think I will do it again," he said.