Small bomb found in car at Belfast International Airport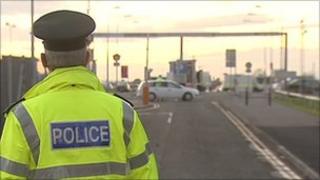 A small bomb has been found inside a car at Belfast International airport.
Police and army bomb experts were called to examine the suspicious vehicle which was discovered in the long-stay car park around 1430 BST on Saturday.
It has been removed for examination.
Flights were not affected, but some passengers were forced to spend the night in local hotels because they were unable to get home without their cars.
The alert ended at 0200 BST on Sunday.
Suspected flammable liquid was found along with the viable device, police said.
Vigilance call
It is believed the incident was not linked to bombs left on US-bound cargo planes.
Detectives are investigating a link to dissident republicans as one line of enquiry.
It comes as a 40kg bomb was found on Friday in Lurgan, County Armagh, and Assistant Chief Constable Duncan McCausland said both devices "had the potential to cause injury and damage".
"They were left in places used by the public and with no regard for the public; it is thanks to the vigilance of individuals that no serious harm has been done," he said.
"In recent days police have stepped up their measures to counter the threat posed by misguided individuals and groups who seek to drag the country back to mayhem and misery.
"Our efforts will continue and we would ask everyone in the community to be vigilant about their surroundings as they go about their daily business."
Northern Ireland Justice Minister David Ford said he was "absolutely appalled".
"This type of incident sends out a very negative message at a time when it's essential that we attract more businesses and tourists here," said the Alliance Party MLA.
"This is exactly the type of news Northern Ireland needs to avoid."