Flooding leads to traffic disruption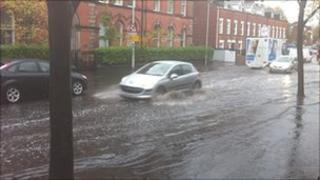 Heavy rain has caused flooding in parts of Northern Ireland mainly in eastern areas.
Waterlogged roads caused a number of traffic problems including tailbacks.
Police said that motorists should be aware of localised flooding in many parts of Northern Ireland.
Earlier on Friday, drivers faced delays on a number of roads in the Belfast area. Surface water was also reported on a number of rural routes.
Police urged drivers in the Omagh area to exercise caution due to localised flooding on a number of routes.
Rain
Earlier, a spokesperson for the Department of Agriculture and Rural Development said the Rivers Agency had received reports of flooding in "several areas" and had sent teams to Ballynahinch, Comber, Newtownards and Dundonald.
"Routine maintenance on high risk grilles was carried out this morning and Rivers Agency contractors have since been despatched to east Belfast to check that high risk grilles remain clear," the statement said.
"Rain is expected to continue in many areas until 7pm this evening."
On Friday afternoon, a spokesperson for Northern Ireland Water said they had no problems reported so far.
The spokesperson said extra staff have been deployed in the call centre to answer any queries.
Staff are also checking and reviewing equipment and pumping stations to make sure everything is operating.
The agency has advised anyone with flooding problems to contact the Floodline number 0300 2000 100.