Poisonous snake discovered in box of grapes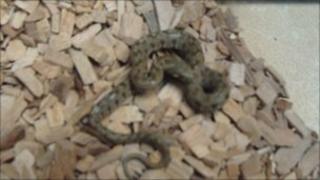 A poisonous snake has been discovered in a box of grapes in a factory in County Armagh.
The 10" long adder was found during a quality check by a worker at Orchard County Foods in Craigavon.
The grapes were imported from Spain.
The staff member did not panic and raised the alarm with management.
The USPCA was called to the scene and took the snake away to a specialist reptile shop in Belfast.
Wayne Hull from City Reptiles says he is sure the snake is an adder but has yet to distinguish the exact species.
He said: "The order came from Spain so I need to identify it as a European species. I can't really say much about it until I have properly identified it.
Venomous glands
"He is a baby. He is about 10 inches and will probably grow to around 18 inches.
"This is the first time we have had this kind of snake brought in to us. We get a couple of stray snakes because of inadequate housing and people not looking after them. But this is a first."
Wayne said the reptile is poisonous and dangerous to anyone who is allergic the bee stings.
He added: "You can tell that it is some sort of adder because of the shape of its head.
"It turns into a diamond shape when it gets annoyed. This is because it has venomous glands on either side."
Wayne says the snake is currently feeding on small mice.
A spokesman for the USPCA said the finding has now been reported to the Environment and Heritage Service.
He added: "Discoveries like this do happen, more commonly with spiders. This is the first time we have seen that species of snake.
"As it is not a native species it cannot be re-homed here. I suspect it will go to one of the Environment and Heritage Service' s facilities in England and then possibly back to Spain."
Orchard County Foods said it did not want to comment on the discovery other than to say it has launched an internal investigation to find out how the snake got to Northern Ireland.