Police blame 'cowardly element' for County Armagh bomb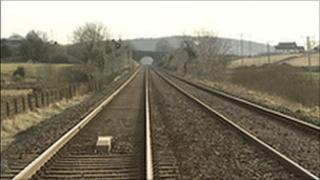 Police say the suspicious object discovered under a railway bridge in County Armagh on Friday was a bomb.
Officers said it could have caused "destruction and injury" and blamed a "cowardly element", but did not mention dissident republicans by name.
Army bomb experts defused the device, which was found in a beer keg left on a road in Lurgan, by carrying out a number of controlled explosions on it.
The device contained more than 40kg (88lb) of homemade explosives.
Several families who were evacuated from their homes on Friday have been allowed to return.
A stretch of railway line on the Belfast-Dublin route which had been closed during the alert has re-opened.
PSNI Chief Inspector Jason Murphy said: "Once again our community has been disrupted and the lives of our residents put at risk by a cowardly element intent on causing as much disruption as they can.
"No warning was given about this device and it is sheer good fortune that an alert individual came across it and reported it to police before the device detonated."
Chief Insp Murphy said: "The police will not be deterred from delivering a service to the community despite the threat from these criminal terrorists."