Halloween festival expected to attract 20,000 to Derry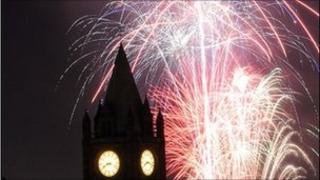 More than 20,000 party-goers are expected to descend on Londonderry for Halloween.
They can get into the spirit at a host of events across the city over the weekend.
Revellers can scream along to bands such as The Wondervillans at a music concert at Guildhall Square on Sunday night.
However, the most spell-binding event should be the traditional fireworks display over the River Foyle.
Prior to the fireworks, the Halloween carnival will snake its way through the city centre to the sound of samba music.
Traffic restrictions will be in place from around 1730 BST on Sunday to accommodate the parade.
Alcohol-free zones will be in place along Queen's Quay, around Guildhall Square and at Waterloo Place on Halloween.
In the past the festival received some criticism for attracting under-age drinkers, however more recently the carnival has generally been regarded as a success.
Day of the Dead
The Waterside will host a number of events in the run-up to the big day.
The Lough Agency hosts "A-scarium Aquarium" at its Prehen headquarters and the Old Clondermot School is the venue for a family fun day.
As ever though, the Guildhall will be at the centre of events. Throughout the weekend, free indoor events such as a Mexican Day of the Dead will take place inside, while the Walled City Market will pack the square outside on Saturday.
Visitors can also take tours of the city's most haunted spots, as a pirate ship sails across the Foyle, the Tower Museum shows scary movies and tall tales unfold at the Playhouse and Culturlann Ui Chanain.