51m euro voting machines scrapped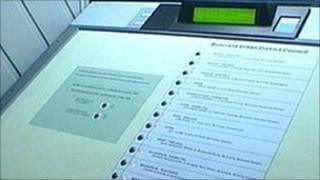 The Irish government is to write off more than 50m euros it paid for electronic voting machines eight years ago and which have remained unused.
The government was advised the 7,000 machines could be open to manipulation.
It has had no serious offers to buy them and Irish Prime Minister Brian Cowen has said they are now to be disposed of.
He said it was a loss to the Exchequer and a great disappointment.
However, he defended the government's decision to pilot the system.
"The legislation required to bring in e-voting was supported by the parties in opposition," he said.
According to the Irish Times newspaper, in addition to the 51m euros cost of the project, a further 3m euros has been spent on storing them and tens of thousands more on consultants to advise on how to dispose of the machines or more cost-effective ways of storing them.