Clues sought over deaths of Sharon and Philip Hull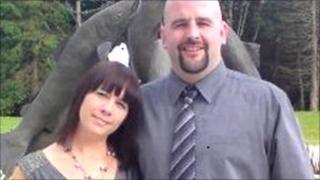 Post-mortem examinations have been carried out on the bodies of an estranged husband and wife.
It is believed Philip Hull, 34, took his own life after killing his wife Sharon, 33, at their Carnbeg Meadows home in Antrim early on Saturday.
Mr Hull's body was found in a car parked in Tardree Forest near Antrim.
Police said initial reports that Mrs Hull had been stabbed were incorrect. The family have requested no further details are released.
Privacy
They have appealed for the media to give them time and privacy to grieve.
Detectives want to trace Mr Hull's movements between 0200 and 0600 BST on Saturday
They also want to talk to anyone who heard a disturbance in Carnbeg Meadows at about 0300 BST.
The couple's three young children were not staying in the house at the time.
While detectives are not searching for anyone else in connection with the two deaths, they are trying to establish the chain of events on Saturday morning.
Mrs Hull was found by her mother at about 0830 BST on Saturday. The body of Mr Hull was found a short time later.