Environmental challenge to John Lewis store adjourned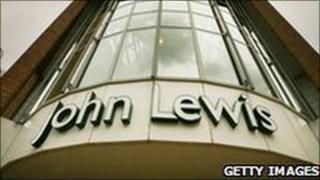 A legal challenge to the proposed John Lewis store at Sprucefield, on the grounds of its environmental impact, has been adjourned until next week.
The case centres on the effect the development could potentially have on badgers, bats and newts at the site.
A judge is then expected to rule on whether to grant leave for opponent businesses to seek a judicial review.
The decision could have implications for a long-delayed public inquiry into the controversial development.
The inquiry has been delayed for months by court challenges, two of which were heard at the High Court in Belfast on Friday.
This latest challenge comes against a backdrop of Environment Minister Edwin Poots claiming business people should stop using a "sudden interest in newts and badgers" to snarl up the planning system.
Mr Poots also said it was "despicable and disgraceful" that commercial interests were using the legal system to stall progress.
'Factual dispute'
A number of retailers, including the House of Fraser and other businesses in Belfast, are claiming the Department of the Environment did not request enough information on the potential ecological ramifications.
On Friday, lawyers for the applicants had sought to adjourn the case, claiming they needed more time to rebut new information supplied to them at the last minute.
They alleged their expert was denied an opportunity to respond to an environmental assessment.
But in response, Nathalie Lieven QC, contended: "The critical point is it cannot be for the court to determine what has become a factual dispute between ecologists, largely, but not solely, about the presence of active badgers on the site."
Following lengthy submissions the application was adjourned by Lord Justice Girvan and is expected to resume at the High Court on Monday.
Plans for the controversial development were first announced in 2004.
Up to 2,000 jobs were to be created, including around 700 at the first John Lewis store in Ireland.
Planning permission was granted at first, only to be overturned following a legal challenge by other traders, who claimed the development could damage town-centre shopping.