Tributes to former Derry Journal editor Frank Curran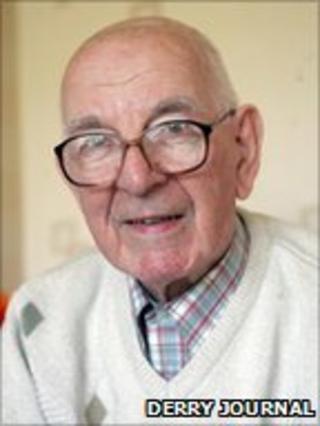 Tributes have been paid to Frank Curran, one of the most well-known figures in the newspaper industry in Londonderry, who has died aged 87.
He was the former chief reporter, sports editor, and editor of the Derry Journal.
Mr Curran began at the paper when he was 17, and carried on working in the industry for more than six decades.
He became known as an authority on Derry City football club and for a long time he was the editorial voice of the Derry Journal.
Former SDLP Party leader John Hume has paid tribute to Mr Curran.
"Frank Curran has been a friend to me for over half a century and always remained a voice of reason and a source of optimism, even in the darkest of days.
"Derry has lost a son of which she can be very proud and many of us have lost a dear friend.
"My heartfelt sympathy goes to May and all of their family on their great loss," he said.
The former editor of the Derry News, Garbhan Downey, also paid tribute to Mr Curran's life and work.
"He was a wonderful gentleman and he brought so much to Derry.
"He chronicled the history of the city over the last century. He was a great sports writer and also a great political writer," he said.
Northern Ireland Deputy First Minister Martin McGuinness called Mr Curran an "institution in journalism" and said that he "set standards that few could emulate".